Main content starts here, tab to start navigating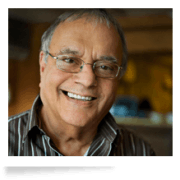 Marcel K. Karian
Maitre D'
Marcel pioneered the family legacy when he opened the original Café Fiorella in Belmont, MA, back in 1986. The casual restaurant served Italian-Mediterranean dishes and boasted one of the first wood burning brick ovens in Massachusetts, imported from Italy. Customers loved to linger at the cafe, drinking a cappuccino and interacting with Marcel, who was a constant presence. Marcel devoted himself to the business, working long days, and the restaurant became a second home to his wife Annie and their children Remon, Shant and Monique. From a very young age they experienced the excitement of the food business and all took responsibilities in the family establishment. Remon's early experiences in his father's kitchen inspired many of the classic recipes he later recreated and expanded on when he opened Fiorella's in Newton.
Before venturing into the restaurant business, Marcel taught language at Waltham High School for more than 15 years. He had a fascination and a facility with languages from an early age; Marcel was born in Marseille, France, to Armenian parents who spoke both Armenian and French, and the neighborhood where they lived was predominantly Italian. But fluency in three languages wasn't enough for Marcel, who later mastered Spanish at Boston University, earning a bachelor's in languages in 1965 and a master's in education in 1966.
As a teacher, Marcel constantly inspired his students to broaden their horizons and appreciate other cultures. He sometimes cooked for his students, introducing them to dishes from France, Spain and Italy (to the dismay of the school's language department!). While he loved the teaching profession, Marcel's love for cooking, conversation, and delighting people with his culinary creations, it was inevitable that Marcel should open his own restaurant. And the rest, as they say, is history. Celebrating 30 years in the restaurant industry, Marcel is now semi-retired but as enthusiastic as ever about delighting customers and making everyone feel welcome at Fiorella's.